How to keep Your Pets Safe for 4th of July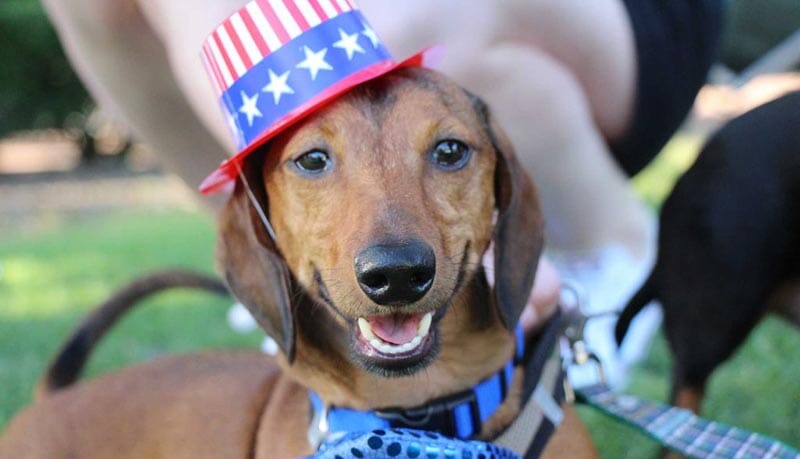 How do Americans celebrate 4th of July?
Barbequed hot dogs and hamburgers, watermelon and ice cream, family and friends, and sun and swimming all go hand in hand during our 4th of July celebrations. Unfortunately, fireworks and frightened pets go hand in hand far too often also.
Fireworks often are unsettling for animals, and more pets go missing around Independence Day than any other time of the year. However, there are ways to protect your dog or cat before, during, and after Independence Day to keep your pets safe for 4th of July.
How can pet parents prepare to keep pets safe for 4th of July?
The good news is, there are things that can be managed ahead of time to avoid the stress of looking for a lost pet, or having your sweet dog stressed out about the fireworks. 
Our pets can also enjoy the fun, festivities, and extra guests to love on them if we take the time to think about their possible extra needs. When planning on how to keep your pets safe for 4th of July, try to put yourself in their paws! 
1.  How to Be Prepared In Case Your Pet Gets Lost
Despite even the best preperation and intentions, sometimes dogs can escape through sheer determination or an open gate or door. Making sure that you can be contacted if your dog escapes and is found is key to getting your dog home safely again. 
TAKE A GOOD-QUALITY PHOTO OF YOUR PET - Update your photos of your pet on a regular basis.  This is something pet owners may not think of, but it is incredibly useful for helping others know what your pet looks like if they are found.




Update your pet's tags with complete and correct contact information,




Check your pet's collar & tag for wear and tear, and buy them a new one if you think it may break soon (better safe than sorry).



Get your pet microchipped if possible - while not necessary, this is one of the most effective ways for others to identify your pet as part of your family if they go missing.
2.  What needs to be done to make the yard secure?
Despite all our best efforts to keep our pets safe, with all the festivities and guests in the house it is easy to miss your pet scurrying outside to get some quiet alone time.  If your pet makes a run for it, make sure that your yard is secure so that they don't run away.
Look for gaps in the fence, and either replace it or board it up with a sturdy material.  A scared pet may chew or claw through cardboard.
 
Check for any holes near the edge of the yard and fill them in as you do not want your dog or cat to be able to dig their way out. 
 
If your fence is short, you may want to replace it with something taller, as adrenaline in scared dogs and cats helps them jump higher than usual.
3.  How to Keep pets calm and safe on the 4th of July
Just because you've prepared for your Independence Day celebration doesn't mean you shouldn't do what you can to keep your pet safe and calm during the event. There are a few things you can do just before or throughout your party to protect your pet:
Make sure you and any guests don't leave alcohol, lighter fluid/matches, citronella, or glow-in-the-dark sticks where your pet can reach them
 
Keep your pet away from a hot BBQ or any open flames, and also watch that Fido doesn't grab that sizzling steak, hamburger or hot dogs right from the grill. Also remember that not all human foods are safe for dogs so watch that any non-pet friendly food does not get within easy reach of your pet
Take your pet on a long walk, give your active dog plenty of exercise, or have a long play session to tire them out before the party - they may be tired enough to sleep through any fireworks, or at least not be startled by them.




Set out a crate, hideout, or other areas in your house as a safe place for your pet, make sure they feel comfortable being in it, and put them in it before the fireworks start. If you have a new pet, crate training from the start is perfect for creating a safe place for your dog!




If your pet is in the house or in their safe place, yet the fireworks still startle them, put on the TV or radio to muffle the noise and close the blinds or curtains to block any flashes of light



Additionally, if your dog or cat still gets scared or nervous around fireworks, large parties or loud noises, spend time giving them extra attention, petting, and cuddling. 
Prepare ahead of time and have a calming remedy on hand to help soothe them. We recommend our Pet Relax all-natural calming remedy, made with flower essences. Pet Relax Anxiety Relief for Dogs and Pet Relax Calming Solution for Cats will help your pet calm down without putting them straight to sleep, unlike other calming remedies.
4.  What cleanup is necessary after 4th of July to keep your pet safe?
Ensuring safety for your pet during Independence Day doesn't stop at sundown. After any gathering or due to neighborhood festivities they may result in debris in your yard, spend a bit of time to thoroughly clean up. 
If you notice your pet is missing, DON'T HESITATE to start looking - the sooner you begin searching, the more likely you are to find them and return them home safe and sound. Check for dogs under vehicles and cats in trees as they may be hiding if they are scared.




Thoroughly comb your yard for any debris that may pose a danger to your pet, including spent fireworks, ashes, and food remains, and throw them out before you let your pet outside again.




When going on walks with your pet shortly after Independence Day, be wary for any debris left on the ground, and pick it up before your pet finds it.



Having a great time celebrating the 4th of July with family and friends, including your furry family members, is a fun summer tradition.  The best way to make sure that the celebration goes off well is to keep your pets safe and secure, and making sure they feel safe and secure. 
If you are not hosting, see our blog on Traveling With Your Pets It can be challenging to know how to keep your pets safe for 4th of July, however with preparation and awareness, your pets may enjoy the day as much as you do! 
From our team at BestLife4Pets, we wish you and your pets a safe and happy July 4th!
SHARE ON YOUR FAVORITE SOCIAL NETWORK