Pet-Friendly Places to Visit with Your Dog in Hawaii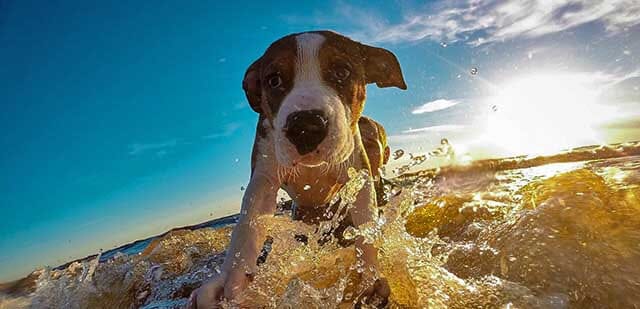 Who hasn't dreamt of going to Hawaii? Located in the central Pacific Ocean, Hawaii is the only state surrounded by water. The stunning black-sand beaches, rugged canyons, and cascading waterfalls make it a paradise for people (and their pets) who love the outdoors.
Since you'll probably be spending lots of time outside make sure that you bring enough water and sunscreen with you to keep your dog hydrated and safe. Not sure what dog sunscreen is best and if you even need it to keep your pet safe in the summer heat, check out this blog to learn more.
As long as you are prepared, Hawaii's beautiful climate & scenery, it is a magnificent place to bring your furry friend along for adventure.
Top Pet-Friendly Place to Visit with Your Dog in Hawaii
There are plenty of pet-friendly places parks, restaurants, beaches and shopping areas to visit with your dog in Hawaii for an unforgettable time together. If this is your first time flying with your pet, make sure you are prepared for what is involved in traveling with a pet.
1. Mililani Dog Park
When traveling with your dog the Mililani Dog Park, located in Mililani Town on the island of Oahu, is a great spot for you and your pup to hang out and get some fresh air and exercise.
The fully-fenced park features open grassy areas, shaded benches, a doggie drinking fountain, and plenty of space for your off-leash dog to run, jump, and play. 
Dog parks are always fun spots to connect with other animal lovers and enjoy the fresh air. 
The park is well-maintained and is part of a safe, family-friendly community. There's also ample parking space conveniently located right in front of the park
2. Kailua Beach Park 


Boasting turquoise-hued water and white sand, Kailua Beach Park is the perfect spot for you and your dog to enjoy a day of fun and adventure! 
Only leashed dogs are allowed on the beach, and they are required to be kept under control at all times to ensure that dogs and humans alike can enjoy themselves. 
County regulations require your dog to be wearing the county-issued license identification tag.  As responsible dog owners should always do, you are required to clean up after your dog at Kailua Beach Park. 
You may stroll along the white sand coast with your furry companion and take in the beauty of the pristine waters, or you could jog or run along the surf with your dog at this pet-friendly beach.
The beach also has plenty of amenities to make your day enjoyable. You can find plenty of shady spots to relax and enjoy the ocean breeze. There are also picnic tables, restrooms, and showers so you can enjoy a nice meal and stay clean after a long day of playing in the sand.  
3. Hosmer Grove Campground 
Located in Kula, this campground provides an unforgettable outdoor experience for you and your furry friend. 
It features six campsites in an open, grassy area at a short distance from the shrubland of Hosmer Grove and the forest. Each site has a picnic table, potable water, and a fire ring. 
There is also a self-guided nature trail perfect for you and your dog to explore, so don't forget to bring a leash and doggy bag.
This pet-friendly campground welcomes leashed dogs of all sizes for no additional fee.
When you camp at Hosmer Grove, you can access the nearby beach and enjoy stunning ocean views. The campground is also close to some restaurants and shops, to satisfy hunger or pick up souvenirs. 
4. The Counter 
If you're in the mood to enjoy a delicious meal with your dog at your side, head to The Counter. 
Located at the Kahala Mall, this dog-friendly restaurant is known for its vibrant ambiance and pet-friendly environment in a casual setting with outdoor seating. All dogs are welcome, provided they are well-behaved and on a leash. For enjoying the meal with your pup, the cozy outdoor seating area set up to be pet-friendly is perfect.
Choose from a wide selection of delectable food and beverages once seated. The restaurant specializes in Angus beef burgers in various flavors, but you can indulge in sandwiches, wings, salads, and chili if you want to eat light. As much as we love dining out with our pups, it is important to make sure that your dog doesn't snatch too many treats off the table. And even if your dog is not the culprit, those soulful puppy eyes can say some well meaning people to pass some treats to your pup under the table. However, not all human food is good for dogs to consume. 


5. Mahiku Farmers Market 
Mahiku Farmers Market is a must-visit destination for dog parents in Hawaii. This lively marketplace sets up three times per thrice a week, offering a wide array of fresh products from local farmers and artisans, as well as a variety of food, drinks, plants, artworks, and handmade crafts.    
It's a pet-friendly spot that warmly welcomes your four-legged family members, as long as they're on a leash. Besides allowing you and your dog to explore the area together, the market is a great opportunity to experience the local culture and meet friendly locals. 
Your pup will love the pet-friendly atmosphere at Mahiku Farmers Market. The staff and vendors are more than happy to welcome dogs, and the market even offers water bowls and treats to keep your pup happy and hydrated. 
There's also plenty of space for dogs to roam around, making it a great place to stop and take a break while exploring Hawaii.
6. 'Aiea Loop Trail 
The 'Aiea Loop Trail is a 4.8-mile loop located in the Keaīwa Heiau State Recreation Area. Taking you along the west side of Halawa Valley, this pet-friendly trail offers breathtaking views of the mountains, valleys, and the Pacific Ocean. 
The path is easy to navigate and is rated as a beginner's trail. It welcomes four-legged hiking buddies, but make sure your dog is kept on a leash throughout.
As you explore the 'Aiea Loop Trail with your pup, you'll experience some amazing sights.
The trail winds you through a forest of eucalyptus trees, bamboo, and native plants, which smells divine.
The trail is also home to incredible wildlife, so keep an eye out. And if you are lucky, you might spot some Hawaiian birds that call this area home.
7. SUP Dog Hawaii 
For a unique, fun filled experience, you must visit SUP Dog Hawaii.  This amazing pet-friendly experience is designed to teach dogs how to Stand Up Paddle Board, and is in Honolulu. The lesson price starts at $95. 
As you take in the rejuvenating environment, and watch your dog having fun learning an amazing new skill, you may have peace of mind knowing that your dog will be in great hands.  The safety-oriented SUP Dog Hawaii team is certified in canine first aid and lifeguarding. 
Whether your pup is new to the sport of SUP or a seasoned pro, the team will work with you to ensure a safe and enjoyable experience for your dog.
Plan a Day Out with Your Dog at Your Favorite Pet-Friendly Place in Hawaii
With its warm tropical climate, stunning beaches, and abundance of pet-friendly places, Hawaii is one of the best states to be in with your dog.
Explore the natural wonders of Hawaii with your furry friend, hiking through tropical rainforests and adventuring along lush trails. Enjoy the dog friendly beaches, being mindful of local rules, and even head out in the water on a stand-up paddle board with your dog!
No matter where you go, a day out with your pup in Hawaii will be an experience you'll never forget. So grab your dog's leash, pack essential items like dog treats, a water bowl, and a natural dog calming remedy for those pups that get a little nervous when traveling or in new places. Then head on out to explore the best of what the Aloha State has to offer!
SHARE ON YOUR FAVORITE SOCIAL NETWORK