Pet-Friendly Places to Visit with Your Dog in Idaho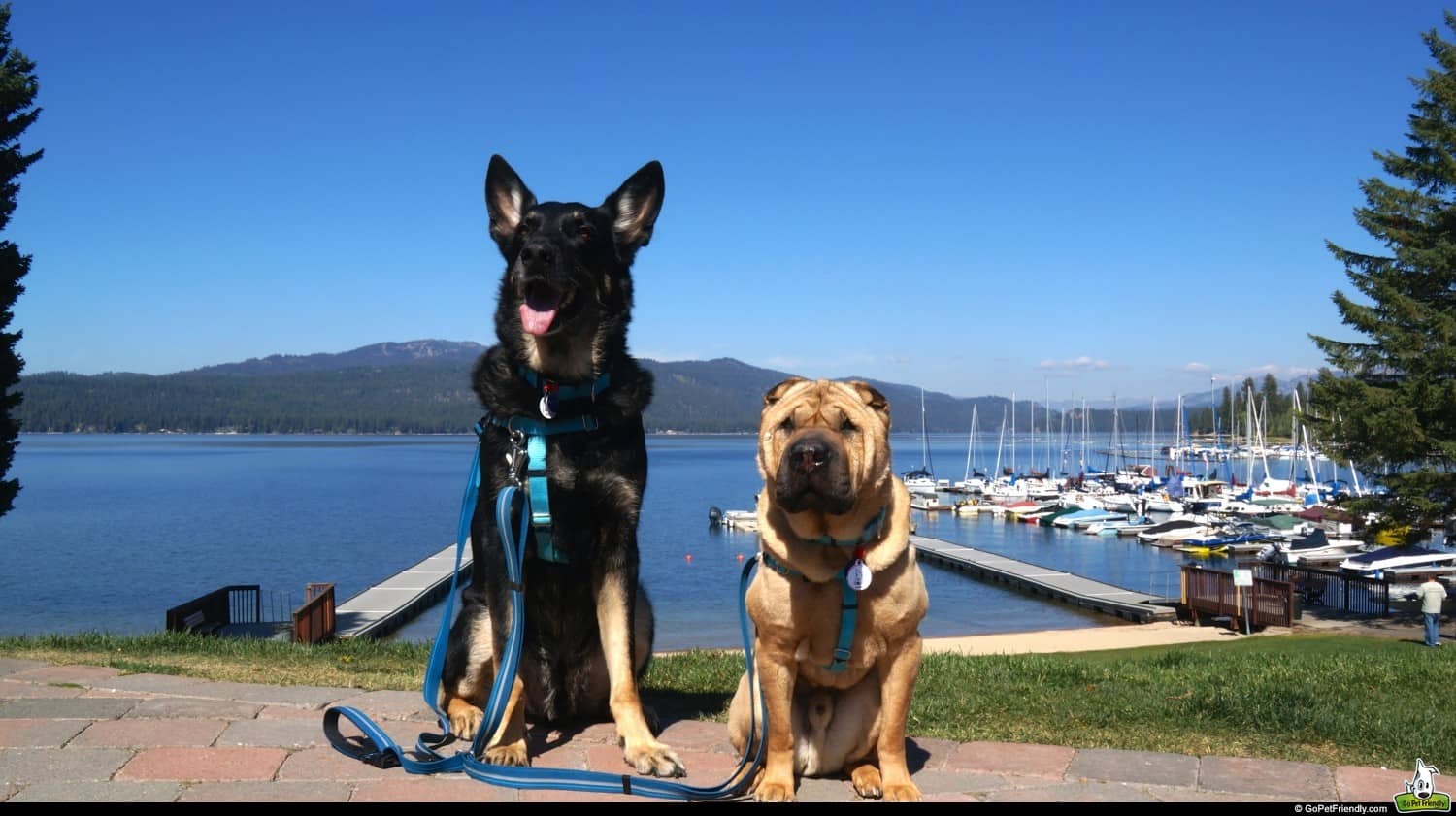 Traveling with Pets? Visit Pet Friendly Idoho!




Idaho is a popular vacation destination with over 2,000 lakes, recreation spots, outdoor activities, rich culture, and stunning scenery. If you're planning to go on a vacation and are considering Idaho, we would say take the plunge and head to Idaho for a fun and adventure-filled vacation. 


Planning a vacation isn't that easy when you're a dog parent. You can't leave your four-legged baby alone at home. You might not even be very comfortable leaving them at a dog care center for several days, especially if you're a helicopter parent. Now, with a dog, where do your vacation plans to Idaho stand? 


The good news is that Idaho is quite pet-friendly, and you can absolutely take your furry baby with you! Can a vacation get any better? With your furry baby with you on vacation, there's little to worry about what might be happening back home. Having your fur baby with you offers peace of mind and makes vacation all the more enjoyable!

So, make that booking and pack your bags (and your furry baby's) because you, my friend, are going to IDAHO!
Tubbs Hill
If you like to hike and explore places on foot, a hike to Tubbs Hill might intrigue you. Tubbs Hill is a natural area spread across 120 acres where you can go with your four-legged baby. The best trail is the 2-mile-long loop trail that outlines Tubbs Hill's perimeter.
Now, what is it that hiking at Tubbs Hill offers that makes it worth your time and energy? 
The trail features numerous historic points and gives you a chance to see some of the most breathtaking views! The hike is about 2 hours long, and your leashed pup can accompany you. 
You can choose to hike on smaller trails that lead to the lake where your pup can splash and play in the water and have all the fun they want. Even older senior dogs that are starting to slow down can enjoy the trip if you go slowly, take the shorter route and make it a leisurely pace. No matter your dog's age, making your trip to Tubbs Hill is definitely worthwhile!
Dog Beach Park


If you want to visit a place where your pup can play around unleashed, Dog Beach Park is the place to go. Your dog can run around the beach without a leash and put their energy to the best use. 
The beaches are beautiful, and you can relax at the beach while your dog has fun. The best thing about Dog Beach Park is that there are dog shower stations where you can bathe your dog before leaving, which means no mess in the car on your way back home!
Dog Bark Park Inn




The Dog Bark Park Inn is the perfect place to stay with your dog if you happen to be traveling in Idaho. What could be more perfect than staying in a whimsical beagle-shaped bed and breakfast which a fire hydrant outhouse? 
The only catch: Dog Bark Park is located nearly in the middle of nowhere — in Cottonwood, Idaho, nestled between a couple of national forests in the western part of the state. Good thing you are already planning a trip there.


This cozy B & B is standing at 30 ft. tall and is available to rent for about $150 a day. 
The home, carved by chainsaw artist Dennis J. Sullivan and his wife, Frances Conklin, has three beds and plenty of amenities. These include: free Wi-Fi, full bath, air conditioning, and a self-serve continental breakfast. 
Dogs are, of course, welcome to stay with you for only a small fee. As you are leaving, make sure to stop by the B & B's charming little gift shop, where dog-lovers can purchase their own puppy carvings coming in a large variety of breeds and sizes.  
Ann Morrison Park
This pet-friendly park, located in Boise, Idaho, is great if you want your dog to enjoy some off-leash time. The best feature of Ann Morrison Park is the gated, off-leash play area for dogs. Other dog-friendly features include a separate area for shy dogs, a 5-acre area for active dogs, and a swimming pond for dogs. 
You can hang out at one of the many picnic benches while your dog has fun. There are also hiking trails where you can go with your pup and spend quality time together!
Eagle Island State Park

The next pet-friendly place in Idaho that you should visit when in Idaho is Eagle Island State Park.
 This 545-acre dog-friendly park has 5 miles of trails where you can hike with your furry baby. The trails wind through beautiful, grassy meadows and lead to the Boise River. Some trails at the Eagle Island State Park are off-leash trails where you can let your pup be without a leash. 
Eagle Island State Park is great if you just want to enjoy nature and let your dog enjoy some off-leash time. 
Storey Bark Park
The fully fenced Storey Bark Park in Meridian, Idaho, is one of the best places in Idaho to visit with your pup. There are separate areas for small and large dogs. There are doggy drinking fountains, paved walkways, agility equipment, restrooms, various ground surfaces, mutt mitt stations, dog-themed street signs, and benches, among numerous other features! 
Storey Bark Park ensures your furry baby has a day full of fun, and you get to have some relaxing time – isn't this what vacations are all about?
MCCall Idaho - Mountain Trails and Lake
Not far from Boise, Idaho is a little town on the shores of Payette Lake called McCall, where outdoors enthusiasts flock for year-round. Between the mountain trails and the lake this place is not only beautiful but is a a dog lover's dream! Ponderosa State Park is one place worth stopping at.  There is a route that provides great vantage points of the lake. Leashed pets are welcome throughout the park, except in the buoyed swimming area.  You can even rent a canoe and do some camping. 
You won't have any problem finding a pet friendly hotel in McCall – there are several to choose from for every taste and budget. If you have a tent or RV, you can find accommodations at the state park and at a local campground. 


Payette Brewing Co.

Feeling a little thirsty? Nothing's better than freshly brewed beer. What if we tell you that you can visit a brewery with your pup when in Idaho? We're serious! 
Payette Brewing Co. in Downtown Boise, Idaho, is quite pet-friendly, and it allows leashed dogs onboard.
You can take your dog to the beer garden and Tap Room. These areas of the brewery feature lawn games and even a food truck at times. You can enjoy as many as 20 beers on tap, local cider and wine, and some non-alcoholic options as well. 
Now, you don't have to miss out on the fun of visiting a brewery just because you're a pet parent. Take your pup along and live your dream!
Laughing Dog Brewing
If you're a beer lover and a pet parent, you've got plenty of options where you can enjoy a freshly brewed beer with your pup accompanying you when in Idaho. 
Just like the Payette Brewing Co., there's Laughing Dog Brewing in Ponderay. As you can tell by the name, this brewery is dog-friendly. Your dog can accompany you while you enjoy a brew, outside or inside the taproom. With more than 15 distinct beers, Laughing Dog Brewing offers one of the finest experiences that you'll remember for a long time!
Mazzah Restaurant




One of the biggest concerns of pet parents when they decide to travel with their dogs, is if they'll be able to find pet-friendly restaurants. However, when you're in Idaho, it's a non-issue. 
One of the many pet-friendly restaurants in Idaho is Mazzah, where you can enjoy a refreshing Mediterranean meal with your pup around. This outdoor dining area lets you enjoy your pup's company while savoring delicious meals out in the open! 


Sonic Drive-In
Another pet-friendly restaurant where you can grab a meal while enjoying your pet's company is Sonic Drive-In. With multiple locations throughout the USA, including one in Boise Idaho, Sonic is a great place to grab a quick bite.  
For more than 60 years, SONIC Drive-Ins in Idaho have built the ultimate dining experience with our drive-in restaurants. 
They did it by sticking to what made drive-ins so popular in the first place: made-to-order American classics, signature menu items, and speedy service from friendly Carhops full of fun and personality. 

And they are pet-friendly!

Just remember that as tempting as it may be to share some of that wonderful meal with your dog, not all human food is safe for dogs.
Winstead Park




Winstead Park has numerous off-leash areas for dogs, making it one of the best places to visit with your dog. Your pup won't be permitted in some areas, including the playground, tennis court, shelter, and parking lot. There are clear signs with maps to help you identify where dogs are permitted.
There are designated times when you can let your dog roam around without a leash. At all other times, all dogs must be leashed. There are plenty of spots where you can relax while your dog plays, allowing you to have a thoroughly enjoyable day with your pup!
Spacebar Arcade
People of all ages love going to gaming arcades. Right? 
Well, you're in luck if you're in Idaho with your pup. Spacebar Arcade is a dog-friendly gaming arcade where you can play your favorite games while enjoying the presence of your pup.
Not only this, but you can also treat yourself to your favorite drinks from a variety of alcoholic and soft drinks. You don't have to miss out on all the fun just because you're a dog parent. 
At Spacebar Arcade, you can satisfy the child within you without compromising on your role as a dog parent.
Moose Lake and Mountain Trail
The next place on our list of pet-friendly places in Idaho that you can visit with your dog is Moose Lake and Mountain Trail.
 This 7-mile hiking trail located in Idaho Panhandle National Forest is one of the most pleasant hikes you'll ever experience.
It takes about 4 hours to complete this hike with your pup. The trail takes you through various landscapes, including the beautiful alpine lake, where you can enjoy a pleasant swim. The panoramic views of the trail will mesmerize you. The best thing about this trail is that it's quite easy and suitable for dogs of all ages!
Traveling with a pet isn't easy, especially if the place you're traveling to doesn't have many pet-friendly places. But that's not the case when you're visiting Idaho. Idaho has plenty of places that are dog-friendly, making Idaho one of the best vacation destinations for dog parents! 
Looking for more information regarding traveling with your pet, check out our pet travel tips to make sure you and your pet have an easy, pleasurable trip! 
SHARE ON YOUR FAVORITE SOCIAL NETWORK