Looking to Celebrate Easter with Your Dog or Cat?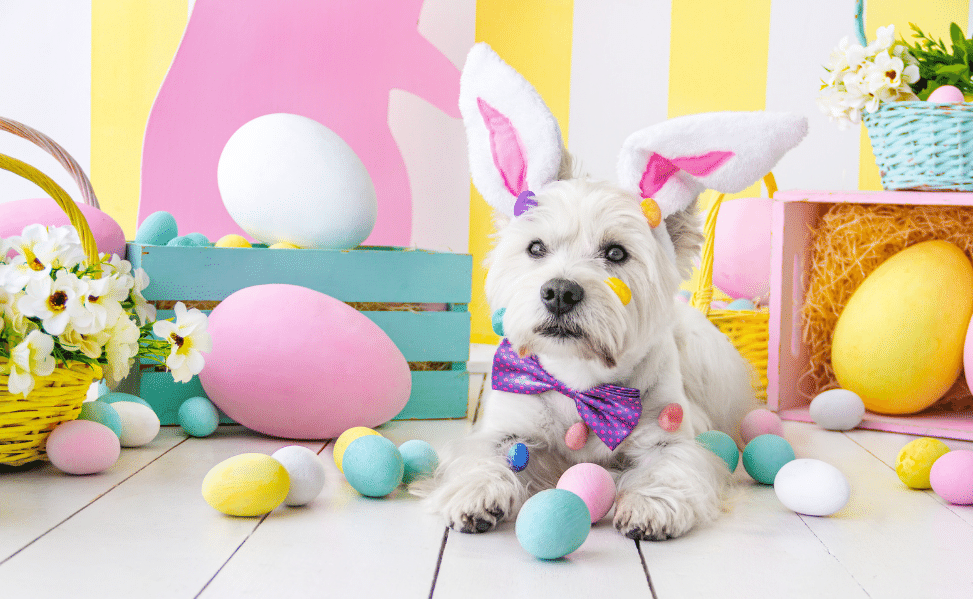 Looking to Celebrate Easter with Your Dog or Cat?
Spring is in the air and for many in North America that also means Easter celebrations, chocolate, flowers and Easter Egg hunts. With all the colorful and tasty treats around the house, it's no wonder that our pets want to join in the celebrations too. Holidays in general are a great time to get together with family, and our four legged family members usually want to, and should, also be included in the fun. You may want to make some Easter treats for your cat or an Easter basket for your dog, but you certainly don't want them getting into the chocolate eggs - those can be toxic. 
To make sure your Easter holidays are both fun and safe, here are 5 simple, yet super fun, ways to make this Easter the best one yet for your furry friend.
1.      Have an Easter Eggs Hunt 
Who doesn't love an Easter Egg Hunt and it's easy to include your pet in the fun. If you are doing a doggy Easter egg hunt substitute in a few hard boiled eggs instead of chocolate ones for your pup to find. And don't use the plastic eggs as that will make it harder for your dog to find the eggs and also the plastic can break and hurt their mouth if they bite into them.
If you are also hiding chocolate eggs for the kids, take the dog out first so that they don't accidentally find and eat the chocolate left by the kids. Chocolate is toxic for cats and dogs so don't leave your pets outside or anywhere near chocolate and candy unsupervised.
Another option is to hide dog treats or toys in the yard or around the house along with the Easter eggs and see if your pup or the kids will find them first. 
If you have a cat, hide some catnip or a cat treat in the eggs and encourage your kitty to find them. Then stand back and watch your frisky feline swat at and chase the eggs to get the treat.
2.  Make Easter Dog and Cat Treats 
One of the best parts about Easter is the yummy meal and all that candy and chocolate. Most pet parents are aware that sweets are a no-no for pets, but did you know that many of the foods commonly enjoyed during Easter such as ham and pork. 
As much as your pet loves human food and may stand by the table hoping to pick up on some of the scraps, the high salt and fat content of these foods is very bad for both dogs and cats and can lead to pet obesity and weight gain if they eat too much. Instead, try giving them some vegetables like carrots, squash or green beans.
If you can't help but succumb to your cat's mewing or those puppy dog eyes whenever you indulge in a tasty treat, why not make a cat or dog safe Easter treat for your fur baby. There are many great DIY recipes for Easter dog treats that you can even make in the shape of Easter eggs or Easter Bunnies which your pup will love.
For your kitty, why not treat them to a fancy gourmet cat food or some tuna - you can even serve it on a special dish. If your kitty overeats you can treat them to some cat grass. You can buy a grass plant for your kitty or grow your own. Cats usually love to nibble on grass after they eat as it helps them to regurgitate their food (dogs do this too) - just be aware that they may vomit after chewing it, but that's nothing to worry about.
3.  Dress Your Pet in an Easter Costume and Have a Photo Shoot
There is nothing cuter than dressing your pup or kitty up in bunny ears surrounded by Easter eggs - so why not dress them up and create some memorable moments with a fun photo shoot you'll remember for years to come. 
Here's how you can make it happen…
Most of the props, such as an Easter basket, Easter eggs and decorations you will already have on hand.
Use a table cloth or a pastel colored sheet for a backdrop.

Put some colored eggs in the Easter basket and around your pet. 

Add some paper or toy carrots and Easter signs 

If your pet will tolerate wearing bunny ears or a costume, dress them up and you're ready to go; if not, then just use the decorations around them to set the theme

Grab your camera and snap a pic!
A few things to note:

If using an Easter basket make sure to remove the fake, decorative grass that is typically used at the bottom the Easter baskets as it is easy for your pet to choke on this grass or have it clog up their intestines.

If your pet gets anxious or over stressed, take a break. All the activities, people and excitement can be overwhelming for your pet so let them have some quiet time. Give them some space or take them for a walk to break up the activity.  If your pet runs away or gets scared, use a natural calming spray such as Pet Relax to help them cope.
4.  Make an Easter Basket for your Dog or Cat and Go On a Picnic
Although we just mentioned that you need to be careful when making an Easter Basket for your pet, that doesn't mean they should be left out of the fun. As long as you take out the fake grass and make sure that they are not likely to munch on the basket, then just go ahead and fill it with some of those tasty Easter dog treats or catnip filled Easter eggs and you're all set.
Easter also doesn't just have to be about food treats - put a fun new puppy or dog toy, cat  or puzzle in the basket for them to play with. You can even make these toy treats yourself as they are not that hard to do.
For cats: make a catnip carrot toy using felt, some thread and catnip of course
For dogs: make a rope tugging toy in the shape of a carrot, and add some green felt at the top that makes it easy to hold on to
Once you have your Easter basket ready, why not go outside for a picnic.  
Depending on where you live, the weather could be  just starting to warm up making it a perfect time to enjoy being outside again. If your Easter weekend is nice and sunny plan an outing to a new place you haven't been before, explore the local park and check out the flower that are starting to bloom. Even kitty cats can come along in a travel carrier or backpack.
If you don't want to go far, you can still have fun and set the picnic up in your own backyard! 
5. Make It Safe and Stress-free! 
Of course no matter what you do, you want to make sure that you keep yourself and your pets safe and healthy. 
Going outside, exercising and enjoying the fresh air is wonderful for both your and your pet's mental health as well as physical health. Parks and wide open spaces are also great in that you can enjoy them while social distancing. 
Going outside, exercising and enjoying the fresh air is wonderful for both your and your pet's mental health as well as physical health. Parks and wide open spaces are also great in that you can enjoy them while social distancing. 
If you are celebrating indoors, in addition to the safety precautions mentioned above around Easter decorations and chocolate, there are a few more things you need to watch out for to make sure your pet has a safe holiday:
Easter Lilies are poisonous to animals

As beautiful as they are, Easter Lilies present a very real danger to pets. Eating even a few leaves, petals or even just the water that the lilies were placed in can lead to severe kidney problems in cats.
In fact the Pet Poison Helpline states that Easter Lillies are among the most dangerous species of lilies, in addition to stargazer, tiger, day,
Asiatic hybrid, Japanese Show, rubrum, red, Western and wood lilies. If you want to brighten up your house with flowers and plants, make sure to choose non-toxic plants that are safe for pets.

Thinking About Bringing Home a Pet Bunny to Live With Your Dog or Cat?  Maybe not ... 
With all this talk of Easter, it may seem like a fun idea or a great Easter gift to bring the Easter Bunny right into your home. 
As adorable as a bunny may be, and they can make wonderful pets, they are not for everyone.  Rabbits can nip or scratch when scared, especially around dogs and cats, and may end up hurting a small child or their owner. And while rabbits and dogs and cats can live peacefully together,  some dogs may see the rabbit as pray and try to hunt them down.
Rabbits also have a fairly long life-span, with many pet rabbits living 12-14 years. Taking care of them, especially if they require medical attention can get quite expensive as vet bills for bunnies can actually be more than even those for the average pet dog or cat. If your family is not ready for this responsibility, then a pet rabbit is not recommended.
However, if you still think you want to get a real bunny, make sure you know which rabbit breed is the best one for your family and take your time introducing any new pet to your dog or cat.
Keep Your Pets Calm
Holidays can be busy, noisy, and a bit overwhelming for your pets. Between the house guests, the kids running around looking for Easter eggs, and all the extra commotion, your dog or cat can easily get scared and act out. Be patient and recognize that they are not misbehaving but are just a bit stressed.
Stick to your regular familiar routine as much as possible. Your pets will appreciate it. Find ways to keep them calm as much as possible through exercise, music or even take advantage of some natural calming remedies if you know your pup or kitty tends to get really anxious. Exercise your high energy dog so that they can expand some of that energy and stay calm; even if you don't have time for your usual long walk.
Take some quiet time and spend it just focusing on your pet. This may mean some extra cuddle time, or a walk just with you and your dog. Not only will they appreciate it, but it will also help decrease your stress this holiday.
However you choose to celebrate, make this Easter holiday a fun and happy one for both you and your pet.
SHARE ON YOUR FAVORITE SOCIAL NETWORK